Posted by... lana on Nov 21, 2014
By Kurtis Hayne, SeaChoice Seafood Market Analyst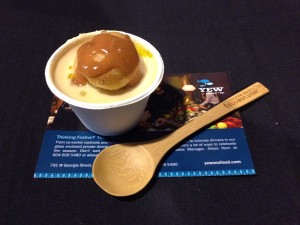 Autumn is the perfect time to cozy up with a bowl of piping hot soup. And on these cold and stormy autumn nights, it's hard to top a bowl of comforting sustainable seafood chowder at the Vancouver Aquarium. Earlier this week, was Ocean Wise's 7th annual Chowder Chowdown – where 14 chefs showed up with their best seafood chowder recipes.
Each chowder was paired with a delicious local craft beer tasting in hopes of being crowned Chowdown Champion. The reigning champion, Chef Chris Whittaker of Forage, was up against some new tough competition this year including Chef Trevor Bird from Fable Restaurant, Chef Alex Hon from West and Chef Ryan Bissell of Perch Restaurant, not to mention a familiar face to the ocean-friendly seafood world, Chef Ned Bell, who ended up being the defending people's choice champion.
The evening not only served up mouth-watering chowder, but the chefs also dished up awareness around ocean-friendly seafood. All chowders were prepared using a diverse array of  only responsibly sourced seafood ingredients. And if you want to make your own chowder at home, you can always look for the SeaChoice or Ocean Wise logo to help inform your purchases at the grocery store.
All of the chowders were delicious, but there could only be one winner for the night. A panel of judges, including Guy Dean of Albion and T.V. personality, Dawn Chubai, crowned Chef Ned Bell the 2014 winner with his Smoked Black Cod "Chowda." Chef Chris Whittaker had the best beer pairing with his Smoked Sablefish and Chanterelle Mushroom Chowder paired with R&B brewing. Ned's chowder was also voted "people's choice"  winner by all of the attendees. Although the attendees that received a spoon for the evening, might just have received the best trophy of them all.