Posted by... lana on Nov 24, 2015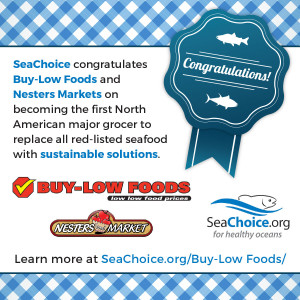 By Lana Brandt, SeaChoice National Manager
After many years of observing SeaChoice major retailers work towards achieving their sustainable seafood commitments, it brings me great pleasure to announce that Buy-Low Foods (BLF) and its corporately-owned locations, including Nesters Market, have successfully achieved their seafood commitment. In just two short years since publicly announcing that BLF would replace all red-listed "Avoid" seafood from their fresh and frozen departments with ocean-friendly alternatives, Buy-Low Foods can celebrate successfully achieving their robust seafood commitment.
The SeaChoice business team is proud of the Buy-Low Foods team for their efforts and ambition in replacing many high demand species such as farmed open net-pen salmon, Russian king crab and Atlantic cod with more responsible solutions. Buy-Low Foods has also been innovative in finding seafood solutions to challenging procurement issues to ensure they would achieve their sustainable seafood commitment by the end of 2015.
Seafood lovers should take note of BLF's efforts in support of healthy oceans for today and tomorrow. Customers can now shop with ease, knowing that all fresh and frozen seafood has been sourced with care. Be sure to stop by and congratulate the staff for achieving their sustainable seafood commitment!