Are you eating seafood in the dark?
by Sarah Foster on January 31st, 2017
((Please note that the recent job posting for a mechanical engineer, using the SeaChoice name and logo, IS NOT REAL. It is a scam, set-up to get personal information and money from applicants. If you have applied, and are concerned about how it might affect you – please get in touch with the Canadian Anti-Fraud Centre.))
---
You may not be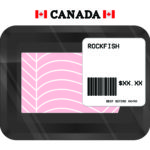 eating the seafood you think you are. And as a result you may be contributing to environmental degradation in the marine environment, modern slavery or even eating seafood that's not as healthy as you think it is. This is why SeaChoice launched a petition – asking the federal government to improve labelling for seafood in Canada.
Canadians want to know what seafood they are eating and whether it comes from environmentally and socially sustainable sources — or if it doesn't. But Canadian consumers are currently "in the dark". How can we know when the information available on seafood packaging only requires a "common" name?
According to Canadian guidelines, a package labeled with the common name "rockfish" could be one of more than 100 possible species, some of which are endangered and others which are sustainably caught. A recent study by Oceana in the United States estimated that nearly half of sampled seafood was mislabelled.
A 2016 study by SeaChoice identified many uncertainties and inconsistencies in official Canadian data – making it likely that Canadians are also subject to seafood fraud. The risk is high – more than half of the seafood in Canadian markets is imported, however current import data does not trace that product back to its source, indicating to consumers only the country where it was last processed, not even its true origin.
In Canada, consumers cannot currently choose to preferentially purchase seafood that comes from legal, regulated fisheries that do not involve human rights abuses, or even that meet our health requirements. This is why SeaChoice asked for public support in petitioning the federal government to ensure that all seafood sold in Canada bears a label indicating the following:
Scientific (Latin) species name,
whether is it wild or farmed,
the location of the fishery in which it was caught (or farm where it was cultivated), and
the gear type or farming method.
Legislating access to this information would allow you to choose seafood that makes a positive contribution to the environmental, economic, social and cultural fabric of the community it comes from. It would also put us on more of a level playing field with some of our largest seafood markets – the US and the European Union.
Knowledge is power – and SeaChoice's newest campaign aims to ensure that all Canadian's have the power to choose seafood that is good for the oceans and the people that depend on them.
Click here for more information about traceability and labelling.