Labelling and Traceability
Let's Stop Eating in the Dark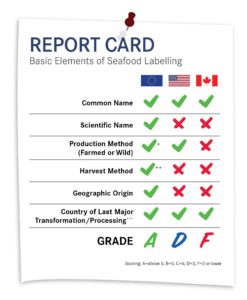 Canada's seafood labelling regulations are insufficient. Businesses and consumers deserve to know more about the fish they buy.
Our report found that Canada's seafood labelling lags behind its primary trading partners (the EU and US) – we gave gave Canada an "F" for its failing seafood labelling regulations.
Seafood labels must include the species scientific (Latin) name, along with where and how it was caught or farmed – key determinants of a product's environmental and social sustainability.
Visit labelmyseafood.ca to find out more about the inadequacy of Canadians seafood regulations, why it matters, SeaChoice's recommended labelling action plan for Canada, and what you can do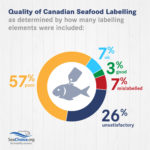 to help!
SeaChoice-led citizen science research has indeed found that on-package seafood labels generally lack critical information that would allow consumers to make informed purchases, though actual fraud was almost nil. Visit our partner LifeScanner for full results and more information.
Canadians Demand Better Seafood Labelling
Better seafood labelling helps businesses and consumers make more  environmentally, socially and economically sustainable choices.
SeaChoice asked, and Canadians answered – Over 12,700 Canadians agree that the government should have stronger seafood labelling regulations that should include:
Scientific Name – The use of a species scientific name ensures greater clarity. Common names apply to different species and can vary from region to region and language to language. But a species has just one scientific name.

Production Method (Farmed or Wild) – This simple piece of information can have huge sustainability implications.

Gear Type or Farming Method – The gear type for wild caught seafood can have very different impacts on the ocean floor and on other species accidentally caught in the gear. For farm-raised fish, different farming methods can have very different impacts on the surrounding environment and the native species that live there.

Geographic Origin – The location of catch or the location of the aquaculture operation should be clear to consumers.
AND Traceability systems to ensure the accuracy of these label claims.
We submitted our recommendations to the Canadian Food Inspection Agency (CFIA) along with the support of 12,705 Canadians. We also provided comments to the Safe Food for Canadians Regulations, focusing in on traceability requirements for the seafood supply chain.
In addition, a recent Eco-Analytics survey of 3,000 Canadians found over 80 per cent agreed, "All seafood sold in Canada should be labelled with information identifying the species, where it was caught, and how it was caught."
So what can you do to help?
We encourage retailers to voluntarily put more information on their seafood labels, to increase transparency, build consumer trust, and follow best practice. SeaChoice has developed labelling guidelines to support these efforts.
The next time consumers are at the grocery store buying seafood, be sure to ask:
What species is this?
Is it wild or farmed?
Where is it from?
How was it caught, or farmed?
Then reference a sustainable seafood website to find out whether or not it's a sustainable choice.
You can also head to labelmyseafood.ca to sign up to our email list to follow our progress and to learn more about seafood fraud and mislabelling in Canada.
More information
Have you ever bought seafood and wondered what fish you're actually buying? According to Canadian guidelines, a package labeled as "rockfish" could be one of more than 100 possible species, some of which are endangered, and others which are sustainably caught.
Canadians deserve to know more about their seafood. But Canada's labelling laws do not require seafood providers to properly label their product with the necessary information that will help consumers make well-informed decisions. This makes it difficult for Canadians to find healthy choices for the oceans and for their family too. It also gets in the way of important economic opportunities for Canada's fishing industry – aligning our labelling with that of our major trading partners, namely the United States and the European Union, will facilitate smoother sale and trade operations for Canadian businesses. (Download our briefing document to learn more).
Watch our video on labelling and traceability:
Related Work:
Conservation Alliance for Sustainable Seafood – traceability resource centre
Past SeaChoice Blogs:
Canadians want better labelling for their seafood
Are you eating seafood in the dark?
Does traceable mean sustainable?
Does your seafood label look a little bit fishy?!