Improving Seafood Supply
SeaChoice continues to focus on achieving supply side improvements in order to increase the volume of sustainable seafood available to Canadian consumers and businesses. We hope to improve fishing and aquaculture practices in Canada by engaging directly with the respective industries, as well as engaging in seafood eco-certification processes through expert, science based input.
Marine Stewardship Council (MSC)
The Marine Stewardship Council (MSC) is the largest fisheries "eco-label" in the world, and the majority of Canadian fisheries are now MSC certified. By engaging directly in MSC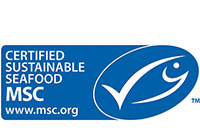 assessments, SeaChoice hopes to bring about important improvements in Canadian fisheries, especially related to Seafood Watch criteria on ecosystem impacts (habitat, bycatch, species at risk) and fisheries management. Robust MSC certification processes will increase the supply of sustainable seafood, and is therefore a SeaChoice priority.
 Aquaculture Stewardship Council (ASC)
Farmed seafood plays an important role in seafood supply chains and in Canada about one third of our total fisheries value (~20 per cent of volume) is produced through aquaculture. Farmed salmon is the most commonly farmed product in Canada (93 per cent by value and 90 per cent by volume).
The Aquaculture Stewardship Council (ASC) is an eco-label for farmed seafood with a specific farmed salmon standard that was released in 2012. The first Canadian salmon farm received ASC certification in early 2015 and the industry has stated its intention to have all salmon farms certified by 2010.
SeaChoice member groups participated in the development of the ASC's Salmon Standard, in a multi-stakeholder process. We ensured that the Standard focused on measuring performance with farm-level metrics that would be a fair and unequivocal assessment of environmental sustainability. We worked for a transparent and inclusive process that would allow stakeholder input into the certification process and subsequent monitoring.
Since the Standard was released, we have participated in every Canadian application as stakeholders and have offered comment to each of several rounds of amendments to the Standard and the Certification and Accreditation Requirements.
We believe that by engaging directly with ASC and the ASC farm audits at this early stage of implementation we will be able to work with the auditors and standard holder to ensure that the ASC standards are being applied appropriately and drive better on-farm practices.