Business Solutions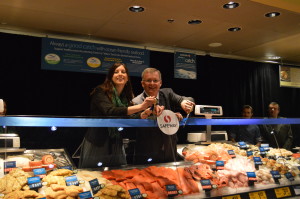 We believe that businesses play an important role in supporting healthy oceans. Businesses at all levels of the seafood industry have an opportunity to take leadership by supplying their customers with ocean-friendly seafood choices. SeaChoice has influenced over 500 Canadian retail locations  through our partnerships and we look forward to growing this work as demand for sustainable seafood continues to increase.
By partnering with SeaChoice, we will help you develop manageable goals that you can proudly share with your customers. We also assist you  in  discovering solutions to sourcing ocean-friendly seafood options. Along with customized employee support, consumer- friendly information, and communications support, we can help you make a difference.
To learn more download the SeaChoice Business Guide or contact our Sustainable Seafood Market Analyst (marketanalyst@seachoice.org)  for more information. Get inspired by many of the SeaChoice business partners. We look forward to working with you and your team!
Related Information: