Business Solutions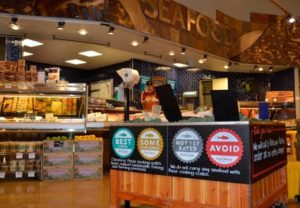 We believe that businesses play an important role in supporting healthy oceans. Businesses at all levels of the seafood industry have an opportunity to take leadership by supplying their customers with ocean-friendly seafood choices. SeaChoice has influenced grocers big and small, from coast to coast, through our partnerships and guidance, and we look forward to growing this work as demand for sustainable seafood continues to increase.
To learn more about improving seafood procurement in your business, SeaChoice recommends following the Common Vision from the Conservation Alliance for Seafood Solutions.
Steps to Achieve a Common Vision for Sustainable Seafood
Make a Public Commitment – Develop a comprehensive policy on sustainable seafood that includes time-bound objectives for addressing environmental and social issues and traceability.
Collect Data on Seafood Products – Monitor the sustainability of seafood products and assess labor and human rights risks within your supply chains.
Make Responsible Sourcing Decisions – Support sustainable and improving seafood sources through purchasing decisions.
Be Transparent – Make information regarding the environmental and social performance of seafood products publicly available and report on progress against your sustainable seafood commitment.
Educate Staff, Customers, and Vendors – Educate employees, customers, suppliers, and other key stakeholders about sustainable seafood, including the importance of addressing environmental and social issues and working toward full traceability.
Support Improvements in Fisheries and Aquaculture – Engage in policy and management reform that leads to positive social, economic, and environmental outcomes in fisheries and aquaculture production, including ensuring implementation of core labor standards.
For more information and support in finding business solutions, contact the SeaChoice Sustainable Seafood Market Analyst (marketanalyst@seachoice.org)  for more information. We look forward to working with you and your team!