Posted by lana on May 2, 2016
By Lana Brandt, National SeaChoice Manager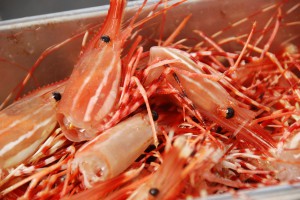 As the calendar turns to May, I get excited every year for the local B.C. Spot Prawn Festival where the community comes together at the False Creek Fisherman's Wharf to celebrate this "Best Choice" local fishery. I've been at every festival since the beginning, and it is amazing to see how support has grown with local Vancouverites for the spot prawn season. What used to be a simple prawn boil down at the wharf has turned into a fun community festival with local chefs, music, cooking demos and more. Don't delay in getting tickets for your spot prawn boil, as tickets will be sure to sell out quickly!
This year in honour of the tenth anniversary, there will also be a few other spot prawn events. You won't want to miss the six course B.C. spot prawn gala with appetizers and dessert (menu below) on May 13 with some of Canada's top chefs. There will also be cooking lessons on May 14 at the Pacific Institute of Culinary Arts for anyone looking to learn tasty new ways for preparing this local delicacy.
Be sure to stop by and say hello to the SeaChoice team at the festival and enjoy the spot prawn season while it lasts!