Posted by lana on Mar 17, 2016
Guest Blog By Colleen Turlo, SeaChoice Member from the Ecology Action Centre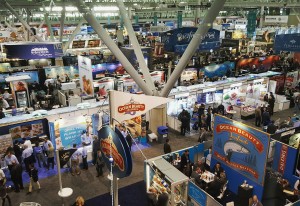 The Boston Seafood Show (officially known as the Seafood Expo North America) is huge. When I told the US Customs Official that I was going to Boston for a conference, he said, "Ah, the Boston Seafood Show?"
If you work in any realm of the seafood industry, it's the place to be. As North America's largest seafood trade exposition, this year held over 1,200 exhibits, and attracted an estimated 30,000 attendees representing over 100 countries. The conference was held at the Boston Convention and Exhibition Center, as it is every year, from March 6th – 8th. And two SeaChoice members were there to soak it all in.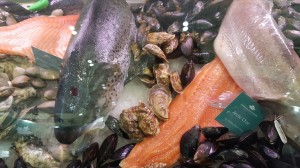 So, what is a seafood expo anyways? The simple answer is that it's a place where anyone involved in fisheries and seafood can find something of interest, be it a supplier, processor, retailer, chef, hotelier, academic, government employee, fisherman, NGO, or media. The show floor was full of colourful and impressive booths touting their products and organizations, with samples of everything from traditional New England clam chowder to more exotic fares, like sea urchin sushi. There were oyster shucking competitions, chef-led master classes, educational conferences, panel discussions, receptions, and awards. So, basically, the Boston Seafood Show is an assembly of nearly everyone in North America (and beyond) that is involved in seafood or the fishing industry.
After three days in Boston, what were our main takeaways? Well, one of the things that stood out to me, as a Canadian, was the large Canadian
representation on the show floor, with several provinces featured under their unique banners, including British Columbia, Quebec, and each of the Maritime provinces. While it stood out to me, it wasn't unexpected as the majority of Canadian seafood exports end up in the US market. The Department of Fisheries and Oceans also had a booth at the show, with the Honorable Minister Hunter Tootoo also in attendance, visiting booths and holding private meetings and press conferences.
SeaChoice was fortunate enough to get a short, private meeting with the minister as well. We presented him with some statistics that we have assembled on species available in the Canadian market. This included a list of red-ranked species we need to focus on improving or substituting so that there can be more sustainable options available for consumers to choose from in the future. The Minister noted how important eco-labels are, and how sustainable seafood programs like SeaChoice and Ocean Wise are important in the Canadian seafood landscape to help educate and inform the public, and to work with fisheries and suppliers directly to help increase sustainable seafood options. It was reassuring to hear him say that they recognize how much Canadians care, and that the government cares too – which is why they are planning on reinvesting in science and utilizing the precautionary approach in fisheries management.
The Conservation Alliance for Seafood Solutions also released their new Common Vision for Sustainable Seafood, which is a resource for industry to help companies design and navigate their sustainable seafood goals. The Common Vision was updated from its 2008 version to address social issues and traceability. For more information on the Common Vision update, check out our press release here.
As a non-industry person, I found the seminars and panel discussions at the conference the most interesting, with many topics highlighting the importance of sustainability and traceability within the seafood industry from a variety of perspectives – economic, social, environmental, as well as a facet of industry's Corporate Social Responsibility when the market or government aren't able to solve the issues themselves.
An exciting collaborative project was announced in the panel moderated by FishWise – the creation of a responsible sourcing tool to identify low, medium and high risk fisheries in concerns with human trafficking and human rights abuses in the seafood supply chain. Tackling this issue of slavery and human rights is more important now than ever as, according to the panelists, there are currently more slaves than at any other point in our history, with the average price of a slave in 2016 a shocking $90 USD. Identifying the areas of concern through this tool is just the first step. The hardest part will be to come up with solutions on how to deal with them once identified.
Another seminar that got me thinking was hosted by Future of Fish. With 40 per cent of seafood products lost at the retailer-consumer level, they argued that being sustainable at the beginning of the supply chain, but not at the end doesn't make sense. And I agree. We should be trying to encourage maximum yield from seafood products, and start thinking about the fish as a whole, instead of just the fillet.
Overall, the Boston Seafood Show is quite an impressive event, bringing together thousands of people from all realms of the seafood world under one roof. It was encouraging to see a lot of industry professionals and government representatives acknowledging the importance of sustainable seafood, and enlightening to hear of all the different organizations that are collaborating to incorporate social issues and traceability into their organizational values. However, there are still many organizations and companies that are lagging behind. And that's why SeaChoice is here; to encourage, motivate, and assist organizations and people on their sustainable seafood journey.