Posted by lana on Feb 5, 2015
By Lana Gunnlaugson, National SeaChoice Manager
I have a big love for oysters, I have since the first time I tried one on the half shell. For me, oysters are perfect by themselves, naked, unadulterated. No squeeze of lemon, no fancy mignonette – simply just the scent and flavours of the ocean.
Oysters are known to spark romance as they have been long considered, and more recently scientifically shown to be an aphrodisiac. And with St. Valentine's Day just around the corner, it seemed like a good time to share a few tips on how to really eat a freshly shucked oyster.
To best experience an oyster, you have to allure your senses beyond just taste. Start by looking for a plump and meaty oyster, and remember oysters should be moist, never dry. Then enjoy the smell to help fire up your palate; inhale the aromas of the sea and enjoy every bit of it.
Next is where the fun begins. Feel the texture of the oyster as you slurp it from its shell and don't miss out on all of its fluid. If you want the true experience don't just swallow it down either, take a moment to chew a few times to unleash the flavour adventure. The saltiness elevates in flavour to something creamy and sweet. And different types of oysters offer many unique tasting notes and complexities with endless pairing possibilities.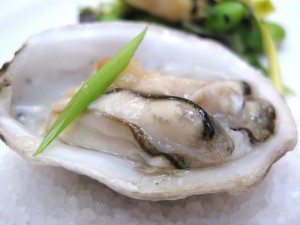 On top of all this oyster bliss, you can feel good knowing that oysters are also a SeaChoice "Best Choice" when farmed anywhere in the world. Enjoy them when dining out, but don't be afraid to try them at home too! Check out these shucking tips from Toronto shucker and Guinness Book record holder, Patrick McMurray to help you enjoy oysters at home.