Posted by lana on Aug 11, 2015
By Lana Gunnlaugson, National SeaChoice Manager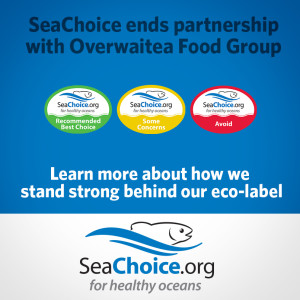 Earlier this week, SeaChoice announced in a media release the discontinuation of our partnership with Overwaitea Food Group (OFG). They were Canada's first major retailer to partner with an environmental group and it is the first partnership to be terminated. Throughout the week there has been some media coverage on the issue, which has asked the reason why SeaChoice ended one of their more prominent partnerships. I am writing this blog to clarify the messaging and to state publically that SeaChoice and its four member organizations stand strong behind the SeaChoice eco-label.
When SeaChoice signs a sustainable seafood partnership with a major retailer, this involves an in-depth collaboration agreement that outlines six essential steps for retailers to take in operating a sustainable seafood program. These include making a public commitment, collecting data, buying environmentally responsible seafood, being transparent about seafood sourcing, educating staff and consumers, and supporting reform of unsustainable fisheries. 
SeaChoice stands strong behind our eco-label so that we can help Canadians make informed decisions when purchasing seafood. We encourage Canadians to ask more questions about where their seafood is really coming from.
To follow this story and more news from SeaChoice, sign up for our blog today.