Salmon (Chinook, Chum, Coho, Pink, Sockeye)
From:

U.S. - AK

Method:

Wild, drift gillnet, purse seine, troll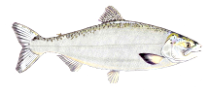 Pacific salmon in Alaska is among the most intensively managed species in the world, with excellent monitoring of both the fish populations and the fishery.
Alaskan salmon dominates the West Coast salmon market. Over the past 20 years, Alaska has landed roughly 10 times as much salmon as California, Oregon and Washington combined.
Freshwater habitats in Alaska have remained relatively pristine, and salmon originating in Alaska does not face the same damming, deforestation and development challenges as those in California and the Pacific Northwest. The current abundance of Alaska salmon and its habitat reflects the success of the state's management practices.
For these reasons, wild-caught salmon from Alaska is ranked as a "Best Choice."
Sushi Name(s)Sake/Ikura (roe)
Common Name(s)Chinook, Chum, Coho, Pink or Sockeye Salmon
Scientific Name(s)Oncorhynchus tshawytscha (Chinook), Oncorhynchus keta (Chum), Oncorhynchus kisutch (Coho), Oncorhynchus gorbuscha (Pink), Oncorhynchus nerka (Sockeye)
Similar Rankings