Atlantic Salmon (Scotland)
From:

Scotland

Method:

Farmed, open net pen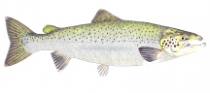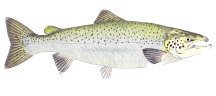 Salmon farmed in open net pens are vulnerable to infection from diseases and parasites, and farms use antibiotics and pesticides to treat or control infection. Although antibiotic use in Scotland is low, there are no regulatory limits on total use should a disease outbreak occur. Pesticide use to control parasitic sea lice in Scotland is high.
The salmon farming industry in Scotland is located in important areas for wild salmon and sea trout populations. The impacts of escaping farmed salmon on wild salmon populations are a high concern, as are the impacts of parasitic sea lice on wild salmon and particularly sea trout.
A global summary for Atlantic salmon farmed in open net pens is available here. Consumers interested in purchasing salmon are encouraged to look for either wild-caught salmon or salmon farmed in closed containment.
Sushi Name(s)Sake/Ikura (roe)
Common Name(s)Atlantic Salmon
Scientific Name(s)Salmo salar
Similar Rankings