Pacific Halibut
From:

U.S.- Pacific

Method:

Wild, hook and line gear (longline).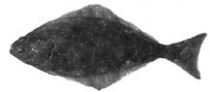 The U.S. Pacific Halibut fisheries are certified as sustainable to the standard of the Marine Stewardship Council.
Pacific halibut are found throughout the continental shelves of the North Pacific from Japan to California primarily on sandy seafloor habitats. The fishery is controlled by an international agreement regulated by the International Halibut Commission of the United States and Canada. The management for Pacific halibut is robust and includes annual stock assessments, annual research surveys, and considerable biological knowledge. Sustainability concerns with this fishery in both BC and AK are primarily around issues of bycatch due to the non-selective nature of bottom longlines. Although halibut stocks are presently in decline, the catch rates have been adjusted accordingly and the stock status is considered to be well understood.
Sushi Name(s)Hirame
Common Name(s)Halibut, Pacific halibut
Scientific Name(s)Hippoglossus stenolepis