Barramundi – Australis
From:

Vietnam

Method:

Farmed- open net pen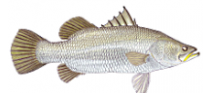 Barramundi are native to the Indo-Pacific and are capable of tolerating a wide range of salinities. They are a prized sport fish and table fish. Because of their hardy nature, fast growth and high reproductive rate, they are well suited to aquaculture.

The barramundi farming industry in Vietnam currently consists of a single farm that produces 2,000 tons per year. The fish are grown in low density, reducing the risk of impacts from disease and chemical use. Effluent and habitat impacts are mitigated through national regulation, the small scale of the industry and strict monitoring and transparent recording on the part of the farm. Wild fish use in feedstock is moderate, and all juvenile fish are sourced from hatchery-reared broodstock, indicating there is no dependence on wild populations for seed. 

Overall, the low environmental impacts associated with Australis barramundi farming in Vietnam make it a "Best Choice" recommendation.
Sushi Name(s)Akame
Common Name(s)Australis Barramundi
Scientific Name(s)Lates calcarifer