Atlantic Cod
From:

Northeast Arctic stock (Barents Sea - Russia, Norway), Icelandic stock (N. Atlantic - Iceland), East Baltic stock (Baltic Sea - Sweden, Poland, Denmark)

Method:

Wild, hook and line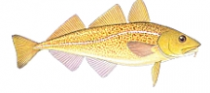 Atlantic cod is a deep-water fish, living at depths of more than 1,300 feet on both sides of the Atlantic Ocean. Cod is one of several "groundfish" species, referring to the fact that they live on the seafloor.
For centuries, north Atlantic cod was one of the world's largest and most reliable fisheries. However, overfishing threatens to bring this to an end. Despite strict management in the U.S. and Canada in recent years, cod remains overfished, with some populations so depleted that they're listed as endangered or threatened. While cod populations in Iceland and the Northeast Arctic are in better condition, overfishing still occurs in these regions.
Fishermen often catch cod with bottom trawl gear, which involves dragging large nets across the seafloor. Trawling damages marine habitats and produces unwanted bycatch. A portion of the Icelandic and Northeast Arctic fisheries don't use habitat-damaging trawling gear.

Sushi Name(s)n/a
Common Name(s)Scrod, Whitefish
Scientific Name(s)Gadus morhua