Atlantic Salmon
From:

Worldwide

Method:

Land-based farmed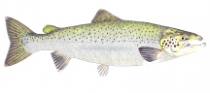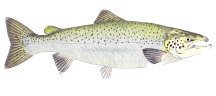 Atlantic salmon farmed in recirculating aquaculture systems is a "Best Choice" for consumers. These on-land production systems separate the salmon from the surrounding environment and thereby lower the risk of environmental impacts from pollution, escapes, and disease.
Consumer Note
Currently, only small volumes of Atlantic salmon are farmed in recirculating aquaculture systems, limiting the availability of this product. In the marketplace or in restaurants, this fish will be labelled as "land-based" or "tank-based" salmon. All salmon is known is sake when prepared as sushi.
Summary
Most farmed Atlantic salmon occurs in marine net pens but a small amount is farmed in closed recirculating aquaculture systems (RAS) on land. These systems are tank-based, providing a physical barrier between the fish and the surrounding environment. Water is treated and recycled through the system with a small amount of discharge. The farms have minimal habitat impacts and while diseases to wild fish can occur, the risk is small. Escapes are unlikely because all of the water that leaves passes through screens and filtration.
Research and development have reduced the use of wild fish in salmon feeds, and controlled tanks for farmed fish can help achieve optimal feed and growth efficiencies.
Due to the closed characteristics of recirculating aquaculture systems and the low risk of environmental impact, Atlantic salmon grown in RAS result in a "Best Choice" ranking.
Sushi Name(s)Sake
Common Name(s)Kuterra, Atlantic Sapphire
Scientific Name(s)Salmo salar
Similar Rankings