Member Groups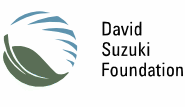 David Suzuki Foundation Since 1990, the David Suzuki Foundation (DSF) has worked to find ways for society to live in balance with the natural world that sustains us. Focusing on four program areas—oceans and sustainable fishing, climate change and clean energy, sustainability, and the Nature Challenge—the Foundation uses science and education to promote solutions that conserve nature and help achieve sustainability.
The David Suzuki Foundation is committed to ensuring that our oceans remain healthy and that marine life remains abundant well into the future. The DSF's Oceans and Sustainable Fishing program works towards changing fisheries policies and destructive fishing practices, undertakes scientific assessments of the status of commercial fish stocks, protects critical marine and freshwater habitat, reduces industrial impacts in marine environments and increases awareness among the public, government and industry about options for the capture, processing and marketing of sustainably harvested seafood.
Ecology Action Centre Established in 1971, The Ecology Action Centre (EAC) is Nova Scotia's largest and most active environmental organization. Since its inception, the EAC has been working to build a healthier, more sustainable Nova Scotia. The centre works on a variety of conservation issues, including wilderness protection, sustainable transportation, local food production, renewable energy, urban issues, and coastal access and protection.
For the past decade, marine issues have been an important part of EAC's work. The collapse of coastal fisheries in Atlantic Canada has had serious and longer than expected consequences both for the marine environment and for the people who live here. Making extensive use of science and fishermen's knowledge, the EAC has focused much of its efforts on reducing the impact of trawling or dragging on the ocean floor and the protection of fish habitat, including long lived species such as cold water corals and sponges. EAC's motivation to work on fisheries (and other ocean issues) is the desire to live and work in a region where there is a healthy ocean as well as healthy communities.


Living Oceans Society  (LOS) is a non-profit research and public education organization that promotes the need for a healthy ocean and healthy communities on Canada's Pacific Coast. LOS strives to combine our conservation vision with the economic and cultural needs of the people who live and work on this magnificent coast. LOS believes that people are integrally part of the environment and by striving to conserve the ocean's wealth and abundance LOS can help build sustainable communities today and for future generations.
Living Oceans work focuses on four key areas of marine conservation:
Marine Protected Areas and Marine Planning – working to ensure that a network of marine protected areas is established based on the principles of ecosystem-based management in BC by producing and incorporating our cutting-edge science and spatial analysis work and results from a vigorous local fisheries knowledge outreach program into ongoing planning efforts along the coast.
Salmon farming – halting the expansion of the industrial open net-cage salmon farming industry in BC, working to address the destructive impacts of current practices, working in coalition with allies to influence consumers and retailers to demand products farmed more sustainably and advancing solutions such as closed containment aquaculture systems.
Offshore oil and gas development and tanker traffic – maintaining the moratoria on both offshore exploration and development and tanker traffic through vulnerable BC coastal waters.
Sustainable Fisheries – working to transform the most destructive fishing practices and advance policy reform while identifying areas of high conservation value such as coral and sponge reefs and working for their protection.