Start small, give it a try, and see what happens!
by Lana Brandt on May 16th, 2013
Guest blog by Samantha Crowley,  Dalhousie University Student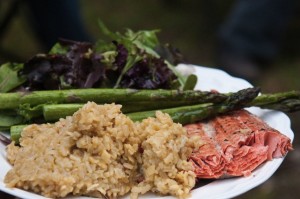 How many times have you eaten something and thought to yourself, "I'm just not going to think about what's in this/where it came from?"  If you're like me, way too many times. Often it is from a fast-food chain, or out of a vending machine.  Rarely do we think of our fish dinners in this way; we generally think of fish as being a healthier and more sustainable choice than a hamburger.  However, as a marine biology student I am learning things about the oceans, that are making me think twice about the fish I eat.
Overfishing. By-catch. Ocean beds destroyed through bottom-trawling. Aquaculture's dubious gifts of pollution and disease. After learning all this, I have had to take a very hard look at the fish I am eating, and have found myself asking the question I normally reserve for my guilty pleasure foods: just what exactly is the story behind what I am eating?
There are ways to find out, although for seafood finding information can be very difficult. Canada does not have mandatory seafood labelling which would tell the consumer where and how the seafood was caught or farmed. Yet without this  information we cannot determine a product is sustainably sourced or not.
Programs such as SeaChoice, which rates seafood based on Monterey Bay Aquarium's criteria, are a great resource, but since product labels don't give enough information, the consumer still needs to do some work. Start by doing some research on your favourite seafood and see if any of them are sustainable. And, start asking some questions: if no one is ever asking for more information, why on earth should suppliers feel the need to give us any?
It is often easy to feel that the earth's situation is hopeless, that we have already messed up the planet so much there is nothing worth doing to try and save it, but this isn't true.  No one is perfect, but little changes can make a big difference. Start small, give it a try, and see what happens!