Seafood Labelling in Canada could be so much more than COOL!
by Lana Brandt on May 23rd, 2013
By Lana Gunnlaugson, National SeaChoice Manager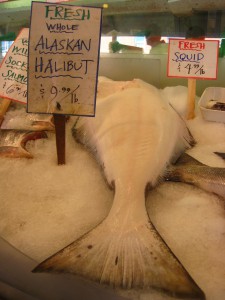 Country-of-origin labelling (COOL) has been mandatory in the US since 2002 and in 2009, US Congress even expanded COOL requirements to include fresh fruits, nuts, and vegetables – yup and you guessed it – seafood too. Canada opposed the COOL regulations arguing that COOL labelling was discriminating and against US World Trade Organization obligations. Today, in Canada, some fish and shellfish products are required to declare their country of origin on the label under the Food and Drugs Act and Fish Inspection Act, according to the the Canadian Food Inspection Agency (CIFA). Some is a start, but wouldn't it be great if all seafood in Canada required COOL labelling?
And seafood labels could be so much more that just COOL! Imagine knowing how our seafood was caught or farmed. Heck, while we are at it, why not know the exact region?! Unfortunately, the Canadian Food Inspection Agency (CIFA) does not agree that these details are important, and as a result, this information is not available to most Canadians unless the retailer chooses to supply this information.
Luckily, retailers and smaller fishmongers recognize the importance of having detailed seafood labels. This information not only helps Canadians determine if their seafood is ocean-friendly, but it also helps to determine health considerations as well as food safety.
Seafood traceability is important. Although knowing where your fish came from doesn't automatically mean that it is ocean-friendly, it does help to answer the necessary questions in determining seafood sustainability. Projects like ThisFish are excellent in helping Canadians understand the traceability of their seafood so that they can make more informed seafood decisions for the health of our oceans today and tomorrow.
If you are like me, and you think that Canadians deserve to know more about their seafood with better labelling regulations, please take action and write a letter to the federal government or your local seafood retailer.