SeaChoice News
Select Media Features: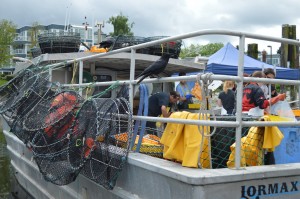 Seafood Watch upgrades ASC-certified farmed salmon to "Good Alternative" – June 7, 2017
NGO: Farmed salmons good alternative rating is faulty – June 5, 2017
SeaChoice opposes Seafood Watch farmed salmon upgrade – June 5, 2017
Citizen science and genetic testing yield positive results – April 12, 2017
Tests reveal nothing fishy at The Big Carrot – March 23, 2017
Select media coverage of seafood labelling report – March, 2017
U.S. Seafood Watch program puts four B.C. fisheries on red list – September 6, 2016
Low B.C. salmon stocks prompt consumer warning – September 6, 2016
Most Canadian seafood fails harvesting sustainability test: report – June 9, 2016
Canada Safeway gets A+ for sustainable seafood – June 3, 2016
Success stories of the Common Vision: The Buy Low Foods and SeaChoice partnership – May 25, 2016
Genetically modified salmon approved for sale as food in Canada – May 19, 2016
Certified sustainable? At-risk Atlantic cod threatened by MSC endorsement – April 21, 2016
Watchdog group urges consumers to avoid buying certain species of fish from 3 Manitoba lakes – November 9, 2015
Province orders fisheries review after Manitoba fish get 'do not buy' rating – November 9, 2015
Overwaitea Food Group Dropped by SeaChoice – August 11, 2015
Sustainable Label Confusion Thrives in Lack of Regulation – August 11, 2015
Overwaitea Food Group Dropped by Sustainable Seafood Program SeaChoice – August 11, 2015
Raising Salmon Right – July 31, 2015
Canada's pacific groundfish trawl habitat agreement: A global first in an ecosystem approach to bottom trawl impacts – July 2015
Vancouver Chef Ned Bell, Chefs for Oceans push for Sustainable Seafood – June 17, 2015
Conservation Groups Welcome Protection for Strait of Georgia's Unique Glass Sponge Reefs -June 5, 2015
Genetically-modified salmon approval faces lawsuit – January 22, 2015
Do you know what's in your sushi? – December 2, 2014
Vancouver Chef Ned Bell Rides Across Canada for Sustainable Seafood – September 10, 2014
For multiple Chefs for Oceans media stories featuring SeaChoice visit here!
Salmon grown in land-based tanks comes to market – May 15, 2014
Fisheries in Troubled Waters -April 8, 2014
Food Matters – Safeway, McDonald's Go Sustainable Seafood! – January 31, 2013
Sustainable Seafood Program Launched by Canada Safeway – January 25, 2013
How much sushi is safe to eat? – June 13, 2012
New organic seafood standard muddles the water – May15, 2012
Sorting seafood at Co-op grocery stores – May 4, 2012
BC spot prawns season: spot the suitable wines
Sask Co-ops reeling in eco-friendly catch
SeaChoice for Co-ops customers
FCL reels in eco-friendly catch
Trawling for Fish? Don't mind if you do.
Chedabucto Bay trap caught shrimp recognized for sustainability and quality
Greenpeace Survey: More Canadian companies sourcing canned tuna responsibly
Is fish farming harming our oceans?
SeaChoice removes Pacific herring from its consumber website
Safeway to source only sustainable, traceable seafood by 2015
Overwaitea Food Group Stores Roll out Sustainable Sushi Options