SeaChoice Celebrates Six Years of Ocean-friendly Success!
by Lana Brandt on September 27th, 2012
By Lana Gunnlaugson, National SeaChoice Manager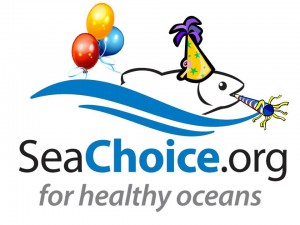 Six years ago today, five of Canada's top environmental organizations joined efforts to launch the sustainable seafood program SeaChoice. Since then, the results of our work have spread across the country. As I reflect over the years, I am extremely proud of SeaChoice's many accomplishments over the years.
From our partnerships with Canadian retailers,  our work with fishers and seafood producers, and innovative consumer outreach materials, SeaChoice has helped shift the Canadian seafood market towards more ocean-friendly choices. SeaChoice has also worked with chefs, food services, educators and everyday seafood lovers, which has created more demand for sustainable seafood.
In honour of our sixth anniversary, I share with you six milestones that are worth celebrating:
1)     Launch of the first SeaChoice sustainable seafood guide in 2006. Often when Canadians think of SeaChoice they think of our handy wallet guide and iPhone app. Over one million English guides have been distributed to Canadians to date.
2)     SeaChoice's first retailer partnership in 2008 with Overwaitea Food Group. Since then we have partnered with Canada Safeway, Federated Co-operatives Ltd and many other seafood retailers and distributers.
3)     Partnering with Canada's largest sushi company, Bento Nouveau Sushi in 2009.
4)     The online SeaChoice seafood searchable database which features over 500 assessments.
5)     Numerous outreach events from sustainable seafood tastings and cooking competitions to movie screenings and our cookbook launch.
6)     Various guides to help Canadians support ocean-friendly solutions. From our In-depth guide to Sustainable Seafood to our Business and Educators Guide.
Please join SeaChoice in celebrating our six years of ocean-friendly seafood success! We thank all of our partners working towards achieving their sustainability goals as well as all of our supporters across the country. A special thanks to the David and Lucile Packard Foundation and SeaChoice member groups for their dedication and support of healthy oceans over the years – the Canadian Parks and Wilderness Society, David Suzuki Foundation, Ecology Action Centre, Living Oceans Society and Sierra Club of BC .