Recipe Corner
March Recipe Feature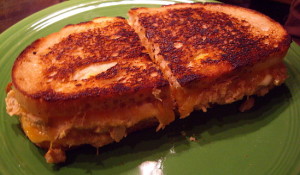 This month we transition from winter to spring, but for many Canadians, the cold winter weather is still here this time of year. And when it is cold outside, there is nothing like a little comfort food to keep you cozy and warm! March's  recipe of the month is no ordinary tuna melt. With a zangy sauce, melted cheese and melt-in-you-mouth BC Albacore tuna, this sandwich earns the comfort food award.
Add a little ocean-friendly seafood flavor to your dinner table! Sustainable seafood is not only good for the oceans, it is healthy for you and your family and did we mention that it is tasty too! Chefs across Canada have shared their favourite recipes with you to help spice up your kitchen. Not only are these recipes tested and easy to try, they are so delicious you will have trouble resisting sharing them with your friends. Why not host a sustainable seafood dinner party to spread the word?! Just be sure to check that your ingredients are on the SeaChoice "best choice" list!
Sustainable seafood recipe books:
1) A Good Catch features recipes from top chefs across Canada that are easy to try at home and will guarantee to satifsy any seafood lover's appetite. Author Jill Lambert helps guide Canadians find ocean-friendly alternatives with great tips and information on the seafood typically found across Canada.
2) Atlantic Seafood will help bring east coast cooking into the comfort of your own kitchen. With over twenty years of experience, Chef Michael Howell helps guide Canadians in choosing ocean-friendly Atlantic shellfish and fish.
3) C Food delivers some of the finest recipes from C Restaurant's Chef Robert Clark, who is known across Canada to be one of the leading ocean ambassadors.