Chefs' Resources
Interested in becoming an Ocean Champion but don't know where to start? Here are some tips and tools to guide you:
Learn about the issues: State of our Oceans
Browse the database to know which red-listed seafood items  to 'Avoid'
Choose seafood from the green 'Best Choice' seafood list
Talk to your seafood supplier to obtain details on the species you are buying.
Ask them the following questions:
What species is this?
Is this seafood wild or farmed?
How was it caught or farmed?
Where was it caught or farmed?
Use the SeaChoice alternatives guide for ocean-friendly substitutes to 'Avoid' red-listed seafood.
Educate your staff by posting species profiles for your menu ingredients and customers by handing out SeaChoice wallet guides.
More inspiration:
Cooking up Sustainable Solutions
—————————————————————————————————————————————-
Are you looking to source ocean-friendly seafood for your restaurant?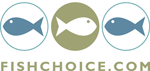 FishChoice.com is an online sustainable seafood sourcing tool that connects retail, restaurant, and institutional seafood buyers to suppliers of sustainable seafood products.
Working with several recognized seafood conservation organizations that have science-based, credible sustainable seafood pro-grams, FishChoice.com is an excellent resource to help businesses like yours discover many of the ocean-friendly seafood options your customers are asking for.
—————————————————————————————————————————————-