A National Sustainable Seafood Day Story
by Lana Brandt on May 20th, 2015
By Lana Gunnlaugson, National Manager SeaChoice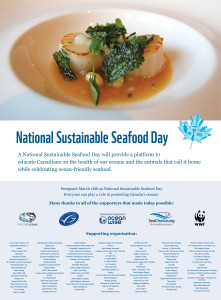 It all began in 2012 on a beach in Nova Scotia when Ocean Wise, SeaChoice and celebrity Chefs Ned Bell and Chris Whittaker joined sustainable seafood forces at the Canadian Chefs' Congress. After an inspirational weekend together, we all agreed that Canada should have a day dedicated to sustainable seafood – just as we do for our oceans. A day for building awareness and to help build educate Canadians about the importance of making responsible seafood choices.
Ocean Wise and SeaChoice tested the idea with MP Fin Donnelly, which was instantly supported when Fin agreed to introduce the motion to Parliament. In celebration we organized the inaugural 2013 event in Vancouver to raise awareness around a day dedicated to sustainable seafood on Canada's calendars.
In 2014 the support for National Sustainable Seafood Day grew further with environmental groups WWF Canada and the Marine Stewardship Council joining the team, not to mention chefs from across Canada to support hosting the second event on Parliament for Senators and Members of Parliament.
Last weekend all of our groups again united efforts at the Toronto Four Seasons to build support for our third annual National Sustainable Seafood Day celebration. Our groups were joined by eight of Canada's top chefs, government, media and over 100 seafood lovers.
But this event was much more than a sustainable seafood tasting. We announced the support for National Sustainable Seafood Day from over 130 Canadian businesses, many of them with hundreds of individual stores. With this growing support we can only hope that this might be the year we pass National Sustainable Seafood Day through Parliament.
If you have not already, please join us in supporting a day dedicated to making responsible seafood choices. After all Canada has three oceans and the longest coast with many ocean-friendly seafood solutions to be proud of. Let's work together to keep it this way.