1% for the Planet makes a World of a Difference
by Lana Brandt on November 21st, 2013
By Lana Gunnlaugson, National SeaChoice Manager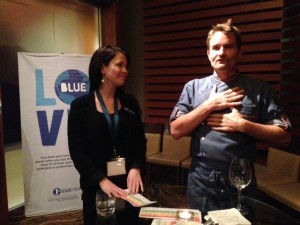 No matter their size individually, businesses donating to non-profits add up to a huge total, and provide support that many environmental groups could not function without. 1% for the Planet is a great way for companies to help support positive environmental change. Businesses choose environmental non-profits to support, and commit to donating at least 1% of their profits.
1% really doesn't sound like much, but every penny helps in the non-profit world. In 10 years of donations through 1% for the Planet, more than 100 million dollars US has been invested in support of the planet.
This week, SeaChoice co-hosted a Love Blue 1% for the Planet event in Vancouver with Executive Chef Ned Bell at YEW seafood +bar. The focus was highlighting Canadian fisheries and aquaculture success stories and positive change in our oceans. The ocean-friendly seafood features were a huge success, with mouth-watering sustainable seafood samples including:
Albacore Tuna – in kind from the Canadian Highly Migratory Species Foundation
Sablefish – in kind from the Canadian Sablefish Association
Oysters – in kind from Fanny Bay Oyster
Rock Crab – in kind from Willowfield
By highlighting sustainable seafoods that are local and rely on innovative fishing and aquaculture methods, SeaChoice is working to help Canadians make responsible seafood decisions for today and tomorrow. We hope that Canadian businesses looking to make responsible investments for our oceans and planet will consider donating to 1% for the Planet in support of the positive change groups like SeaChoice and others are working for.